Patio? Balcony? Porch? Deck? – or just some kind of ancillary!
Construction work that is properly planned is much easier to carry out …
Before building a balcony or a deck on your property or replacing an existing one, you must get a certificate of authorization from the Urban Planning Department, at a cost of $50. The request must be accompanied by a copy of the property's certificate of location, clearly indicating the dimensions of the structure and its planned location, as well as its distance from the house and the property lines.
Learn about the applicable regulations
Article 5.7b)
of Zoning By-law No 90-58 sets out the applicable provisions for building a structure that is referred to as a "balcony", "porch", "patio" or "deck" but which is referred to in the By-Law as a "deck", as per the following definition:
"… any surface meant for outdoor activities and which is located more than 45 cm (18") above an imaginary plane which raises from the right of way of the street on which the building fronts towards the back of the property with a slope of 2%."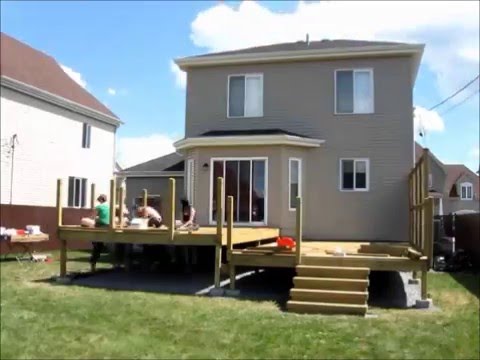 Applicable regulatory requirements

Minimum Distances 
An ancillary to an above-ground pool or not shall only be installed in the rear setback and must respect the following minimum distances:
from any side property line: 2.0m (6.6')

from any rear property line : 4.5m (14.76')

from any dwelling : 0m (0')
Other applicable provisions
In accordance with
Article 5.10
of the same by-law, storage of items on balconies other than outdoor furniture required for use on such balcony is prohibited.