Installing a garden or storage shed
It is best to ask for information beforehand!


Installing a garden or storage shed on your property or replacing an existing one, may require a building permit or certificate of authorization from the Town.  The Urban Planning Department can help you decypher the requirements applicable to your specific property.  


Where required, the request for such a document must be accompanied by a copy of the property's certificate of location, clearly indicating the dimensions of the structure and its planned location, as well as its distance from the house and the property lines.


Learn about the applicable regulations


To make the best choice as to the type of shed to buy or where to install it, it is important to be aware of the applicable regulations.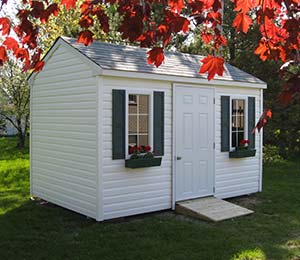 Chapter 6
as well as and
article 10.12
of
Zoning By-Law No. 90-58 and
article 3.2c)
of Construction By-Law No. 90-60 set out the provisions governing garden sheds, structures that fall into the building accessory category that must comply with the following rules for size and installation:
Dimensions of the structure

Maximum area : 15 square metres (161.5 square feet)

Maximum height : 3.7m (12.1')

Depth : Shall not exceed twice the width

Width : Shall not exceed twice the depth

Installation of the structure
Shall be installed only in the rear setback (prohibited in front setbacks or secondary front setbacks in the case of a corner lot);

Required distances:

More than 90cm (3.0') from any side or rear property line

More than 1.8m (6.0') from a main building

Other applicable provisions
Flat roofed building accessories are prohibited in all residential areas

No living space shall be built on top or inside a building accessory

Only one garden or storage shed is permitted on the same property

If the area of the structure is greater than 10 square metres (107.6 square feet), it must be built or installed on a concrete slab or on a permanent foundation