The objective of this subsidy program is to fight against the spread of the emerald ash borer on the territory of the Town of Kirkland by providing financial assistance to private landowners who willingly decide to treat with TreeAzinMD one or more ash trees located on their property, or who have the obligation to do so by virtue of municipal By-Law No. 2015-51.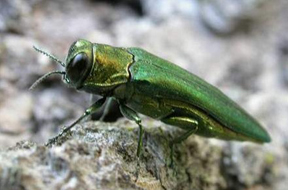 Conditions of the Subsidy Program
Maximum of $500 per ash tree
To take advantage of this financial aid program, please complete the subsidy application form. Once duly completed and signed, please submit the application form to the Public Works Department in either of the following ways:

Inspection / Treatment
The Town is responsible for performing the work
The costs are paid from the subsidy


TreeAzinMD treatment can be done between May 15 and August 31. However, it is strongly recommended to do the injections between June 15 and August 30 to maximize the efficiency of the treatment.It should be noted that duration of efficacy of TreeAzinMD injections is two years and the cost of treatment is established according to the diameter of the tree.

Felling / Grubbing / Grass Repair
The applicant is responsible for performing the work:
The cost estimate and the original invoice must include the following details: name of the applicant, address, detailed work description with the DBH (diameter at breast height) for every ash tree.

Replacement of a felled ash tree
Every ash tree felled on private property must be replaced with a tree that is at least 1.5 meter in height, other than an ash tree or a prohibited species such as poplars, willow trees, catalpas and silver maples





The property owner is responsible for purchasing and planting the replacement tree which may be obtained :
free of charge from the Town – only the costs for planting are then eligible for the subsidy
at his/her preferred nursery – the selected species must have previously been approved by the Town in order for the purchasing and planting costs to be eligible for the subsidy

For questions relating to the subsidy program:
Urban Forestry Division
Public Works Department
25 Claude-Jodoin Street, Kirkland (Quebec) H9H 5E6
Telephone : 514 630-2727
Email : tpadmin@ville.kirkland.qc.ca