Please note that collection services of organic waste, recyclable materials and household garbage will continue as regularly scheduled.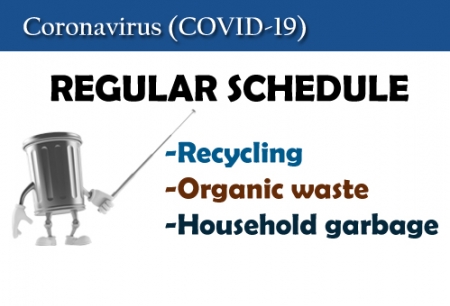 Update: April 17, 2020
We ask you to please follow the measures below recommended by Recyc-Québec:
Soiled tissues, masks, wipes and gloves must be disposed of in closed garbage containers. They must not be placed in the recycling bin or the organic waste bin.


Keep your returnable containers at home and postpone trips to the ecocentres or other drop-off locations.


Household waste must be placed in hermetically sealed bags. It is not permitted to dispose of household waste directly in the garbage can or garbage bin.
Inasmuch as possible, we ask that organic waste be placed in tightly closed paper bags or be well wrapped in newspaper, cardboard boxes, etc., so as not to be discarded directly in the brown bin.

Since the coronavirus can survive on different surfaces for a certain period of time, taking out your bins one day in advance could reduce the risk of spreading the virus to employees who provide the collection service. We therefore recommend that waste bins be placed at the curb as of 6 p.m. the day before collection day.