COMPLETE CLOSURE OF SAINTE-MARIE OVERPASS
As part of works done for the REM, the westbound Sainte-Marie overpass will be completely closed on December 14 & 15 from 5 to 10 a.m.
---
Tearing down of former Madisons restaurant in Kirkland
Starting on October 7, for approximately three weeks, from 7 a.m. to 7 p.m. on weekdays*
Nature of work

We will be tearing down the former Madisons restaurant located at 3000 Jean-Yves Street, as part of building the Réseau express métropolitain (REM) Kirkland station at the intersection of Jean-Yves Street and Chemin Sainte-Marie.

This is the only planned demolition in this sector. Businesses affected by expropriation on the West Island have already been contacted and informed.

Impacts and mitigation measures
Expect intermittent noise during the work, during the day only (7 a.m. to 7 p.m.*).
The deconstruction techniques used will limit some impacts of this work.
A monitoring program to manage noise, air quality and vibration throughout the work will be implemented.
The work zone will be fenced off to ensure safety.
* Work before and after this time period may be necessary to mobilize all the equipment required for completing the work and cleaning up the site.
For questions, suggestions or complaints,
call us at 1 833 736-4636 (rem-info)


---

Reconstruction of municipal services on Hymus Boulevard
(between André-Brunet and Stillview)
From July 2, 2019 and continuing until the end of August, the Town will be carrying out reconstruction work on the above-mentioned street. Traffic will be maintained whenever possible with ONE LANE ONLY in each direction and a delay of approximately 10 minutes should be expected for travel. Moreover, closures of the boulevard will be required at certain stages of the work.
Please note that residents will have access to their property at all times. However, on-street parking will be prohibited and residents will have to park their vehicles on the adjacent streets.
For more information, we invite you to contact the Engineering Department via email at genie@ville.kirkland.qc.ca or by phone at 514 694-4100, extension 3143.


---


A Bird's eyeview of construction projects in the works
SUMMER 2019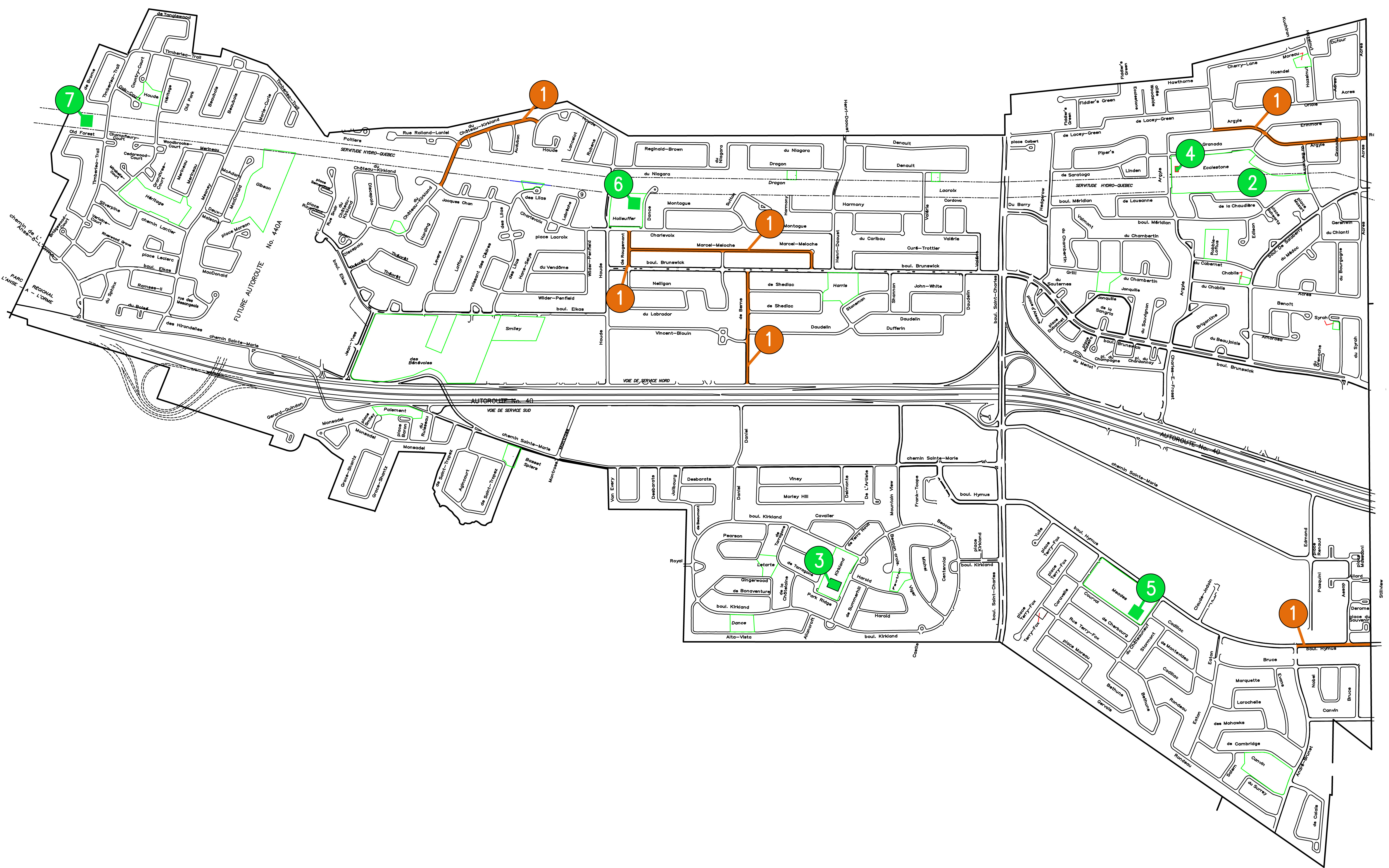 The following is a description of the major projects your city has scheduled for completion this coming summer.



ROAD WORK



1. ANNUAL REPAVING PROGRAM

Nature of the work: Reconstruction of street curbs, foundation and paving

Targeted locations:

Argyle St. (Between Cherry-Lane and Kirkland limit)
Berne St. (between Brunswick Boulevard and service road A40 W)
Hymus Boulevard, Phase II (between André-Brunet and Kirkland limit)
Château-Kirkland St. (between Jacques-Chan and Houde)
Rougemont St.
Marcel-Meloche St.

 

Duration of the works: mid-May to mid-October

Estimated cost: $7 million




Access to the driveway will be restricted for a few days to allow the concrete curb to harden. Residents who intend to carry out landscaping projects, outdoor painting, window cleaning or have their driveway repaved this summer should postpone until work on their street is complete.

 




PARKS AND GREEN SPACES

 

2. WALKWAYS / BICYCLE PATH

Nature of the work: Rehabilitation of portions of the bicycle path
Targeted locations: Hydro-Quebec servitude
Duration of the works: July to September
Estimated cost: $100 000

 

3. PLAYGROUND

Nature of the work: Rejuvenation of playground area and installation of cedar fiber
Targeted location: Kirkland Park
Duration of the works: September
Estimated cost: $200 000

 

4. PARK CHALET

Nature of the work: Installation of a wheelchair access ramp for persons with reduced mobility
Targeted location: Ecclestone Chalet
Duration of the works: Summer 2019
Estimated cost: $175 000

 

5. UNIVERSAL PLAYGROUND AND SPLASH PAD

Nature of the work: Construction of a universal playground and splash pad
Targeted location: Meades Park
Estimated timeline: May to September
Estimated cost: $1.2 million

* The park will only be accessible during the period of Day Camps.



6. PARK LIGHTING

Nature of the work: Rehabilitation of the lighting system
Targeted location: Holleuffer Park (Baseball field and parking lot)
Estimated timeline: July to September
Estimated cost: $375 000

 

7. BICYCLE PATH

Nature of the work: Construction of a bicycle path to be carried out by the City of Montreal
Targeted locations: Hydro-Québec servitude, between Timberlea-Trail and l'Anse-à-l'Orme
Estimated timeline: Summer/Fall 2019
For more information on the projects scheduled this summer, call the Engineering Department during opening hours at 514 694-4100.