Update: October 19, 2021
Complete closure of Highway 40 West
between Highway 15 and Cavendish Boulevard
From October 22 at 10 pm  to  October 25 at 5 am

The Ministère des Transports wishes to inform road users that Highway 40 West will be completely closed to traffic between Highway 15 and Cavendish Boulevard, from Friday, October 22 at 10 p.m. to Monday, October 25 at 5 a.m.
This complete closure will allow for paving work on Highway 40.
Traffic hindrances are to be expected. In case of poor weather or operational constraints, construction work may be postponed or cancelled.
Info : Québec 511 Info transports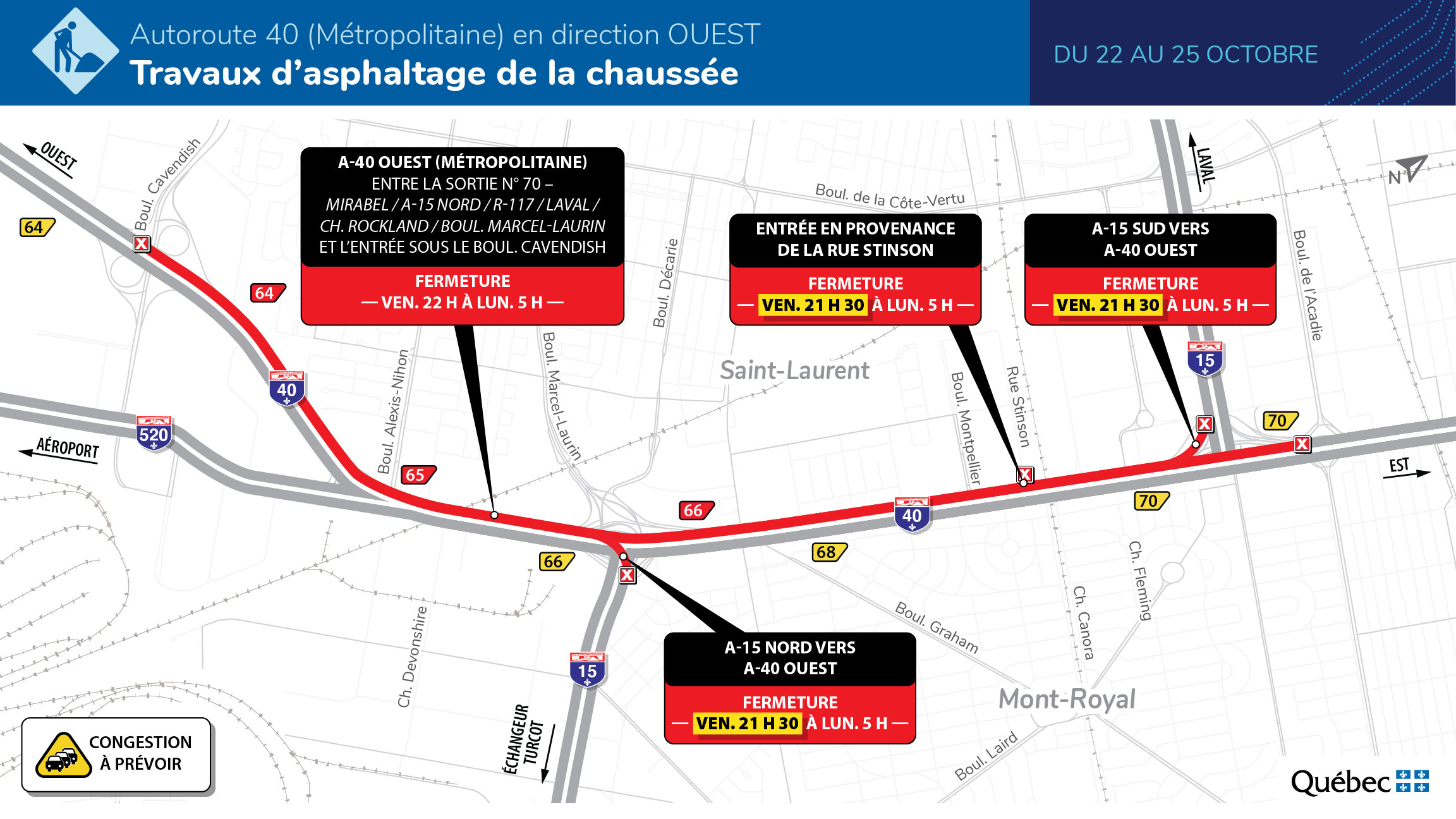 ---
PAVING WORK FOR BIKE PATH
Start date: the week of September 26, 2021
End date: the week of October 31, 2021
The City of Montreal will do paving work on the bike path along the following sections:
Section 1: Elkas Boulevard – between Théorêt St. and Houde St.
Section 2: between Ecclestone Park and Berkshire St.
Section 3: between Valérie St. and Saint-Charles Boulevard
Section 4: between Hedgerow St. and Argyle St.
Impact of paving work:
Complete closure of the bike path along the sections above-mentioned
Detour routes for bikers will be posted on site to bypass the work area
Possibility of dust and intermittent noise
Info:
---
Construction Project
As of August 9, 2021, the Town of Kirkland will undertake works for the construction of a retention basin and a storm water network.

The works will continue until early December at the northwest corner of Saint-Charles Boulevard and Highway 40.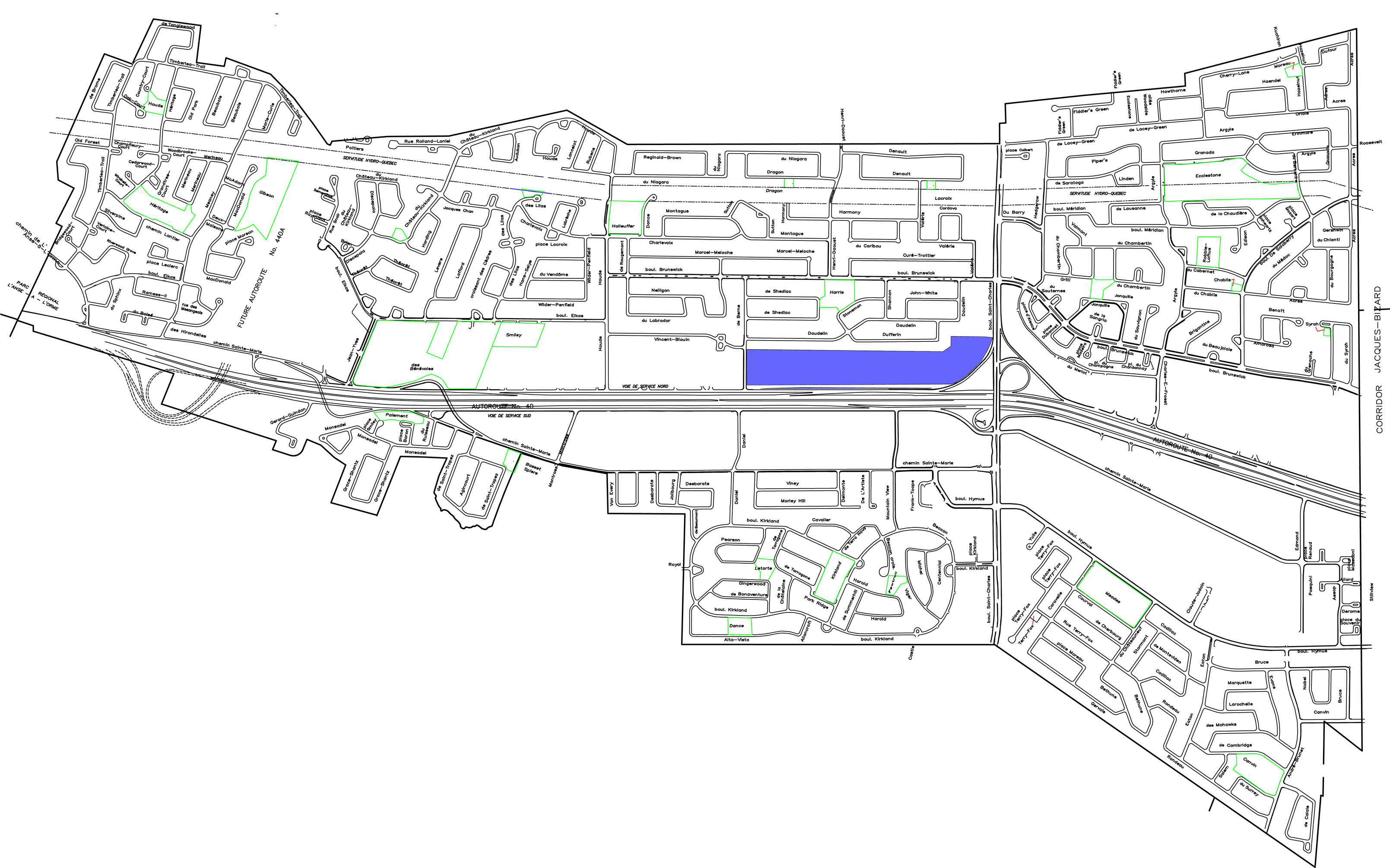 ---
A Bird's eye view of construction projects in the works
* SUMMER 2021 *


The following is a description of the major projects

your city has scheduled for completion this coming summer.

ROAD WORK

1. ANNUAL REPAVING PROGRAM

Nature of the work:

Reconstruction of street curbs, foundation and paving
Electrical works and installation of LED lighting
Water main replacement – Mohawks St.

Targeted locations:

Mohawks St. (between Cambridge and André-Brunet)
Acres St. (between the south intersection on Salaberry Boulevard and 61 Acres St.)
Jacques-Chan St. (between Château-Kirkland and des Lilas)
Mérineau St.

Duration of the works: mid-May to end of September

Estimated cost: $5.5 million


IMPORTANT:

Access to the driveway will be restricted for a few days to allow the concrete curb to dry.  Residents who intend to carry out landscaping work, outdoor painting, window cleaning or have their driveway repaved this summer should wait until work completion to have it done.


PARKS AND GREEN SPACES

2. CYCLING AND WALKING PATH

Nature of the work: Construction of a secured cycling and walking path
Targeted location: Sainte-Marie overpass
Duration of the works: end of summer 2021
Estimated cost: $380 000

3. PARK CHALET

Nature of the work: Installation of a wheelchair access ramp for persons with reduced mobility
Targeted location: Ecclestone Chalet
Duration of the works: summer 2021
Estimated cost: $25 000




MUNICIPAL BUILDING

4. LANTIER HOUSE

Nature of the work: Rehabilitation works: roof, interior and exterior structure, doors and windows
Targeted location: Lantier House
Estimated timeline: 2021
Estimated cost: $500 000
For more information on the projects scheduled this summer, call the Engineering Department during opening hours at 514 694-4100.