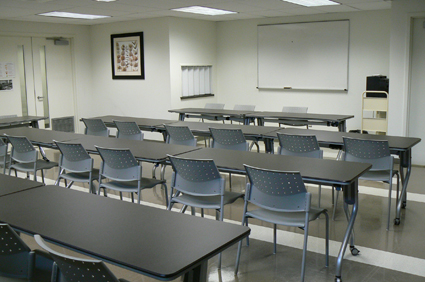 SITE
: Conference Room in the basement of the Library

ADDRESS
: 17100, boul. Hymus, Kirkland (Québec) H9J 2W2
DIMENSIONS
: 37' x 26'
CAPACITY
: 30 people seated
FACILITY
: Accessible to wheelchairs. Elevator. Washrooms. Air conditioning. Meeting room includes refrigerator, stove, microwave, rectangular tables, chairs, erasable white board. Wireless internet access.
TERMS & CONDITIONS OF RENTALS
:
Activities that are allowed: classes, meetings, seminars, conferences.

No parties can be held in the room.

The reserved time period must include the set-up, the take-down and the clean up.

The lessee must bring his own dishes, utensils, and also some dry erase markers and erasers.

The sale and/or distribution of articles are forbidden.

No alcoholic beverages on site at any time.
Information and Reservation